REIKI LEVEL 1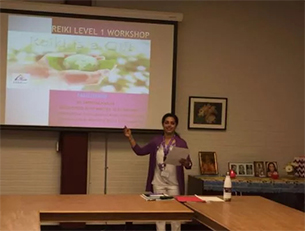 REIKI LEVEL 1 COURSE
Reiki is a Japanese form of energy healing, which is a subset of alternative medicine. Reiki practitioners use a technique called palm healing or hands-on healing through which a "universal energy" is said to be transferred through the palms of the practitioner to the patient in order to encourage emotional or physical healing.
Benefits of Learning Reiki
Improved mood and emotional wellbeing
Reduced stress and increased relaxation
Improved anxiety and pain management
Boosts immunity
Amritha Kailas is a IARP registered and certified Reiki Master under Usui System of natural healing with specialized masters in India under the lineage of William Lee Rand.She offers online trainings to teach Reiki Level 1 and 2 for women and children of all ages who wishes to utilize Reiki for general wellness and stress reduction.
By the end of the Reiki Level 1 program, you will receive
Initiation to Reiki and access divine energy
Learn Reiki Meditation
Chakra Cleansing
Techniques and hand positions for Self Healing and healing others
Reiki Manual
Certificate of Completion
Handouts for daily practise to ground, protect and shield from negativity
---
---