SPIRITUAL MENTORING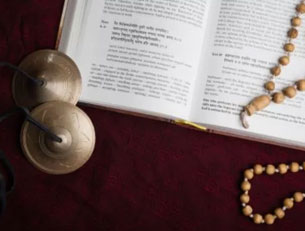 Tap into the essence of Bhagavad Gita and gain deeper insights by discovering life empowerment techniques conveyed authentically from ancient wisdom hidden within holy scriptures to progress in your personal and spiritual life through our mentoring program.
Amritha Kailas has more than 4 years of teaching experience in Sanskrit. She started her teaching profession in Sanskrit in 2016 at a private performance and arts school in Canada to kids and adults of varied ages.
Her deep passion to teach Sanskrit led me to intensive research and study that enabled her to develop a customized and structured curriculum that not only met the students' learning needs but also developed interest, curiosity, confidence and positive outlook towards life.
Following an integrated fun filled approach of blending the traditional language concepts preserving the authenticity along with content from ancient scriptures that emphasizes on human values, has helped her students inculcate positive habits and values to develop a strong personality/character with optimistic attitude towards life.
---
---